Welcome to:
RACETOONS!
WARNING: IF YOU DON'T HAVE A SENSE OF HUMOR, THIS PAGE IS NOT FOR YOU. THERE'S SOME BIG LAUGHS UP AHEAD. THESE AREN'T YOUR DADDY'S RACING POSTERS!



(Note : clickable links are blue!)
Note : More sports cartoons to be added so check back.
Updated : 3/08/01
---
"Dale Spanking Jeff!"

If you're a Dale fan - This poster is for you! It features Dale spanking a Cry-Baby JEFF while telling him,
"I'm still the BIG DOG around here!"
---
"Dale Spanking Rusty!"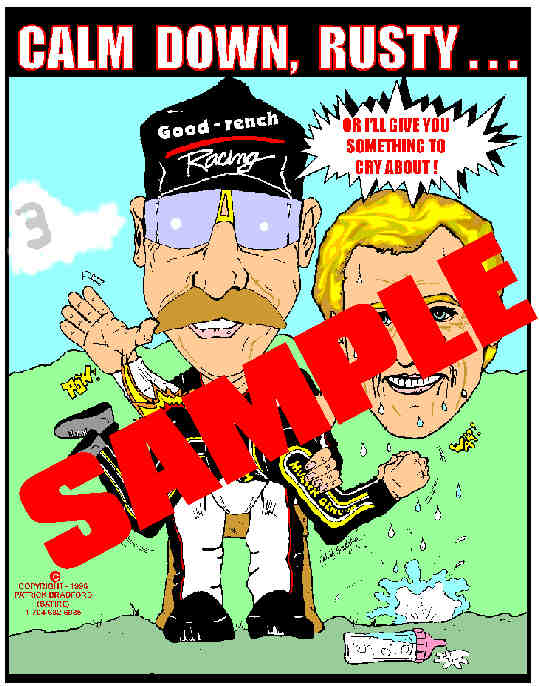 Once aging if you're a Dale fan - Here is another poster you just have to have. It features Dale spanking a Crying RUSTY while telling him,
"Calm down, Rusty . . . Or I'll give you something to cry about."

---
"Jeff kicking Dale!"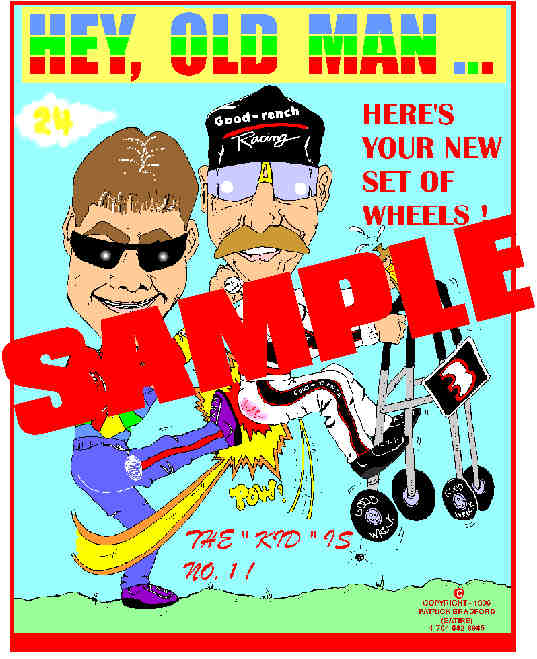 If Jeff's your man - Then this poster is for you! It features Jeff kicking Old Man Dale in the butt, as Dale pushes his walker around,
"The KID IS NO. 1"

---
"Rusty spanking Dale!"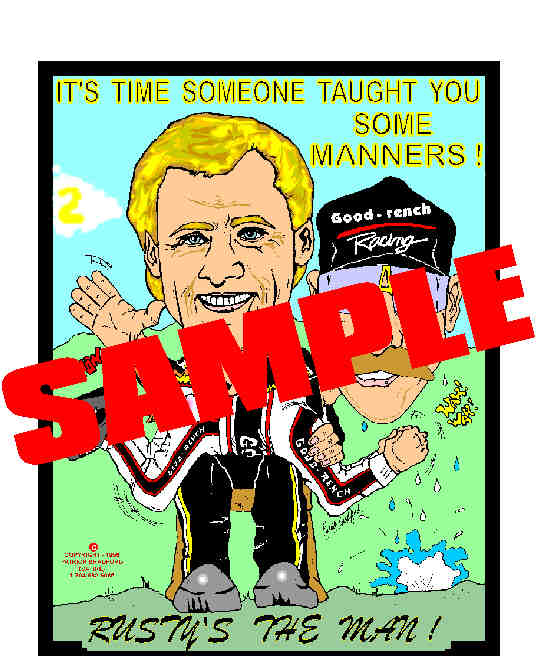 If you're a Rusty fan - Then check this out! It features Rusty giving big baby DALE, his just rewards!
"Rusty IS the MAN"
---
Here's the scoop . . .
* Each drawing is 11" x 14"
* Full Color
* Framed or Unframed
* And without the word "SAMPLE" across it!
(If I didn't put sample across it on this web page, you guys would just download it and print it off. Then I would be poorer then I already am! ha)
---
COST:

Okay, what would you expect to pay for art of this caliber?
$100.00?
$75.00?
Maybe if you're a MORON! HA
The cost is only:
FRAMED: $25.00
(includes postage and handling!)

or
UNFRAMED: $15.00
(includes postage and handling!)
---
OKAY! How do you get one of these masterpieces for your very own and become the envy of the neighborhood? It's easy- Just send a check or money order, (sorry no credit cards at this time) to:

P. Bradford
Rt. 1 Box 855
Burnsville, NC 28714
(expect shipment in 2 - 4 weeks)








---
Thank you!
Hey Guys, I'm just a poor boy like you, trying to make a living, PLEASE if you can tell 3 - 4 of your friends about this web site!
I'd appreciate it!
---
Feel Free To Add My Banner To Your Page If You Wish!
alt="RACETOONS" border="0" width="100" height="50">
If you have clickable email then :
Click here to email me at patrick_bradford@hotmail.com


If not, email me at :
patrick_bradford@hotmail.com









Please give me some feedback on this artwork, good or bad! Thank you!
Disclaimer: Not endorsed by anyone but me. It's Satire, just like MAD magazine or Saturday Night LIVE!



This Page Has Been Accessed
Times!

Plus over 10,444 HITS before Tripod reset the counter!






"LINKS!"





This page hosted by TRIPOD, GET YOUR OWN!

"Tripod's Free Home Pages"